Voyages en famille : 7 sites pour s'évader !
Alerte évasion immédiate ! Ils sont 7 voyageurs, avec chacun leur univers et vision de l'aventure mais une chose les réunit : l'envie de partager leurs bonnes idées de voyages en famille au bout de la rue ou à l'autre bout du globe…
Amis Baroudeurs d'ici et d'ailleurs, bonjour !
Pour l'heure, inutile de boucler votre ceinture, mais installez-vous confortablement dans votre fauteuil ou sur le trône (souriez vous qui essayez aussi d'y trouver 2 minutes de calme entre la révision de la table de 9, les 16 nouveaux mots de dictée, la fiche de lecture, la tenue correcte du crayon pour écrire PAPILLON et les 4 visios quotidiennes 😉
Pour démarrer cette nouvelle semaine tant attendue (oh déconfinement !), ces voyageurs ont pris les rênes de notre blog de voyage familial pour se présenter, vous suggérer des pistes de voyage avec les enfants, tout en nous confiant leurs envies d'escapades pour l'après confinement ainsi que des vidéos & articles pour barouder en famille…
Tour du monde en 4×4, échanges de maison, mise en lumière des acteurs du tourisme, voyage en fauteuil, magazine décalé… Nous vous souhaitons de jolies (re)découvertes !
Voyages et Enfants, la famille baroudeuse
Je suis Sandrine du blog Voyages et Enfants. Je l'ai créé en 2011, enceinte de Mini Voyageur, mon 2ème enfant. Nous avions auparavant déjà voyagé, avec Nico et notre Miss Voyageuse, née en 2005, sans trouver beaucoup d'infos. Du coup, je me suis lancée pendant ma grossesse pour partager mes expériences de voyage, mais aussi celles d'autres parents voyageurs et de nombreux conseils pratiques.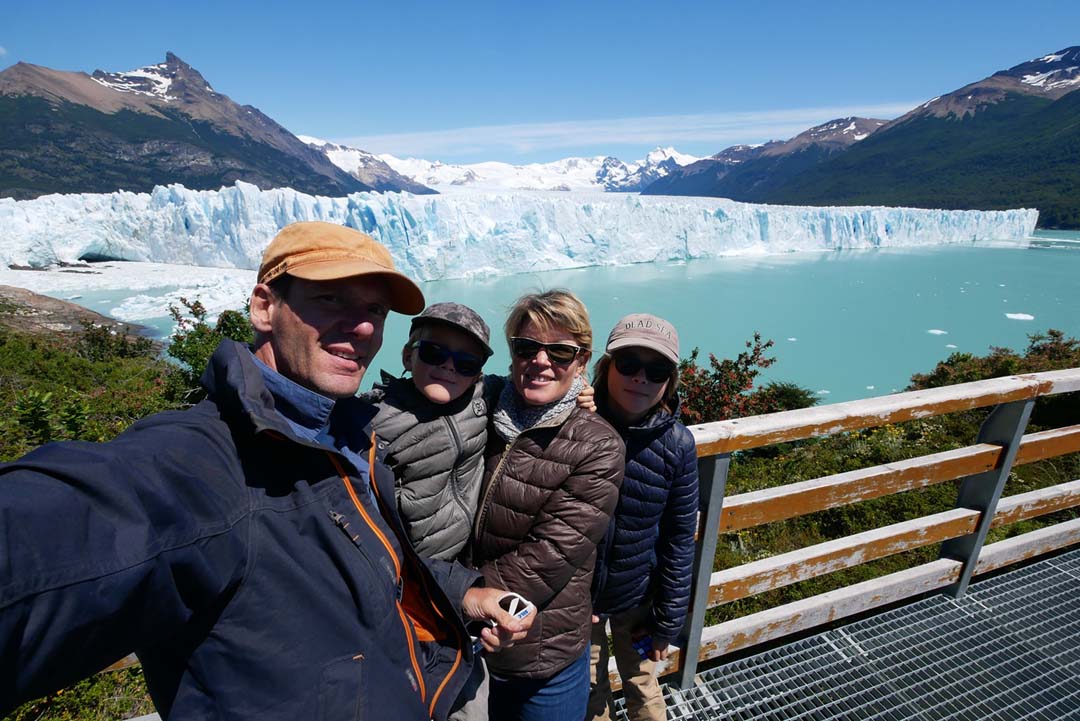 Depuis, nous avons eu la chance de beaucoup voyager en famille. En sac à dos, dans de beaux hôtels, en camping : peu importe le mode et le confort du voyage, l'important ce sont les rencontres et la découverte d'une autre culture. Plusieurs fois au Canada, au Sri Lanka, en Turquie… et en point d'orgue, un an en Amérique du Sud en 4×4, et en tente de toit. Cet été, cela fera un an que nous sommes rentrés de ce superbe voyage.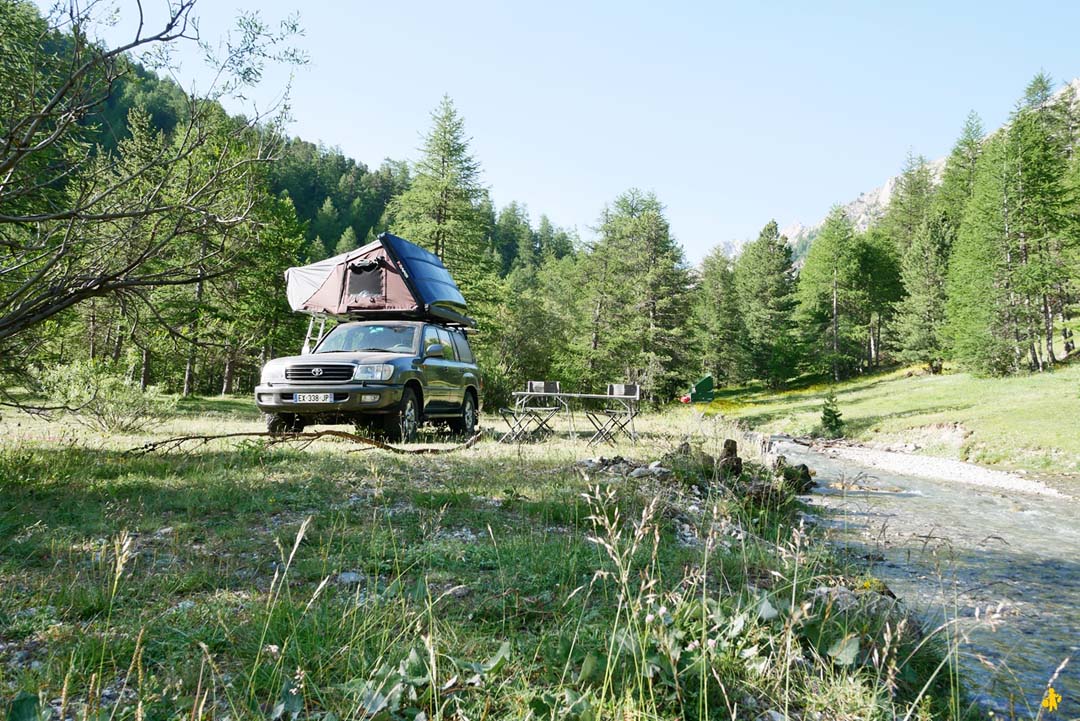 Le confinement nous a pris au dépourvu : nous avions prévu de nombreuses escapades dans notre belle région des Hautes-Alpes. Par contre, il n'a pas trop d'impact sur nos prochains voyages, puisque, cet été, nous avions déjà prévu de rester en France, pour monter en Moselle, en traversant les Vosges et le Jura pour aller à la rencontre d'amis voyageurs… Espérons que l'on puisse circuler aussi loin. Par contre, dès le premier week-end, nous partirons dans notre département pour aller faire un bivouac dans la nature…
Faites le plein de bonnes énergies en parcourant notre rubrique voyage familial depuis chez vous sur notre blog : Nos voyages en famille 
Pour retrouver les aventures passées et à venir de Sandrine et sa tribu, filez sur leur :
Leszed, famille nomade digitale 
Peu de temps après la naissance de notre fille en Espagne (nous étions alors expatriés à Barcelone), nous avons décidé de tout vendre (maison, meubles etc.) pour nous libérer et pouvoir voyager à plein temps, en famille, tout en travaillant à distance. C'était en 2014, et nous sommes ainsi devenus une des premières familles nomades digitales. C'est ainsi que nous avons décidé de créer notre blog, afin de partager cette expérience avec nos proches et les autres familles qui aiment voyager, et qui peut-être, hésitaient encore à sauter le pas. Une formidable aventure qui, secouée par de lourds soucis de santé de ma femme, durera tout de même 4 ans, nous faisant grandir intérieurement, et nous poussant à aborder la vie sous un angle nouveau.
Aujourd'hui, et même si nous avons repris un chez nous dans un joli parc naturel (le parc du Pilat) où nous avons eu un second enfant, nous continuons à perpétuer cet amour du voyage dès que nous en avons l'occasion… Et en mode slow travel dès que c'est possible. Car c'est avant tout une envie de profiter d'un lieu sous ses différentes facettes, de prendre le temps de l'explorer, de l'apprivoiser… Et pour cela, rien ne sert de traverser toute la planète : de formidables expériences et de belles découvertes nous attendent tout près. Comme j'aime le dire : « ​le voyage commence en bas de chez soi » !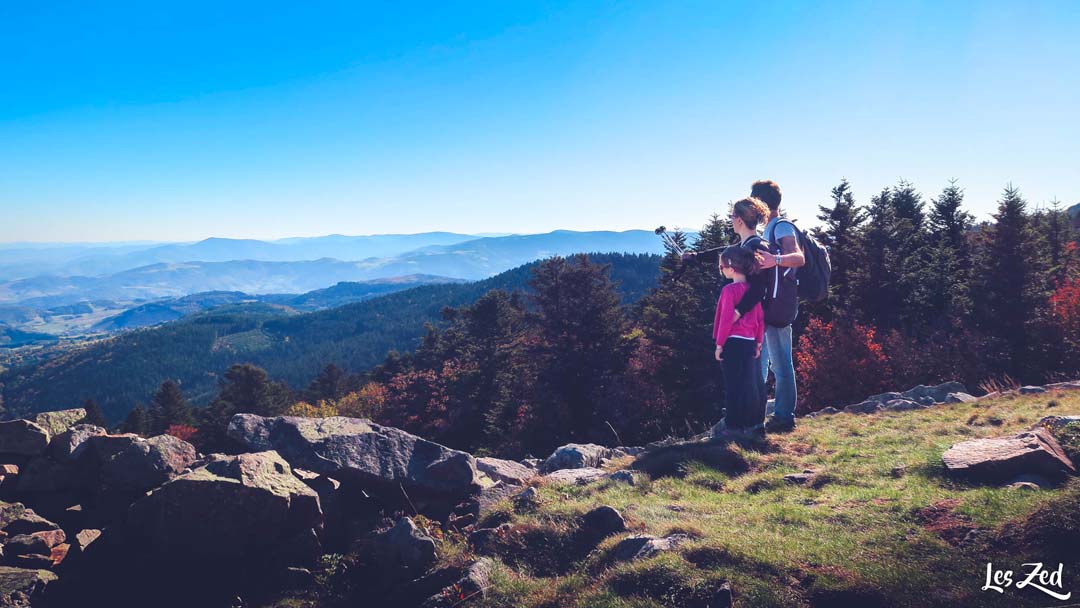 C'est d'ailleurs avec cet esprit que dernièrement, nous avons pris le temps de visiter un territoire dans notre propre département, à seulement 1h30 de chez nous. Un voyage, guidé par le fil de la Loire, et qui nous a réservé de magnifiques découvertes et des moments uniques en famille. Je vous invite à regarder notre vidéo Voyager dans son propre département pour vous en rendre compte !
Alors oui, nous avions de nombreux projets de voyages avant l'arrivée du COVID-19, mais ce confinement nous laisse le temps de faire le point et de voir les choses encore autrement. Peut-être est-ce notre passé de Digital Nomad qui parle, ou cette prise de conscience permanente que notre monde ne tourne plus très rond : aujourd'hui, nous souhaitons encore plus ralentir le rythme de nos voyages… Partir moins, mais plus longtemps !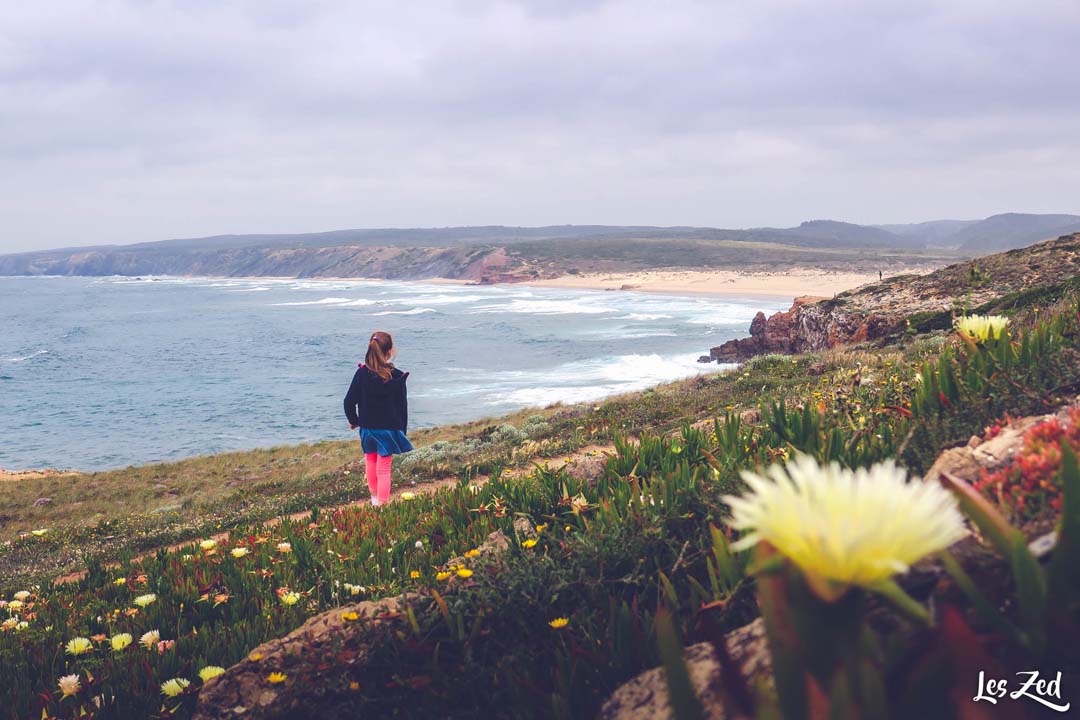 Pour suivre la famille Leszed, rendez-vous sur leur :
Elodylovestravels, la maman voyageuse
Maman blogueuse, voyageuse et chroniqueuse radio, je partage sur mon blog, les réseaux sociaux, ondes de France Bleu Pays d'Auvergne & RJFM, nos voyages en famille (mon mari, mon petit aventurier de 5 ans et moi-même) dans le monde que nous réalisons grâce à l'échange de maison, mais également nos découvertes et coups de cœur touristiques en France. Je réalise, depuis l'année dernière de jolies petites vidéos avec ma caméra et mon drone, histoire de partager plus intensément ma passion.
Ambassadrice Allier Tourisme, j'ai à cœur de mettre en lumière régulièrement le tourisme dans mon joli département. Privée, durant ce confinement, de cette passion des découvertes, j'ai décidé de mettre en lumière sur mon blog, sous forme d'interviews, des acteurs du tourisme local afin de permettre à ma communauté de les découvrir.
J'offre ainsi une petite vitrine aux professionnels locaux et donne de belles idées de visites et activités pour l'après confinement aux personnes vivant dans ma région.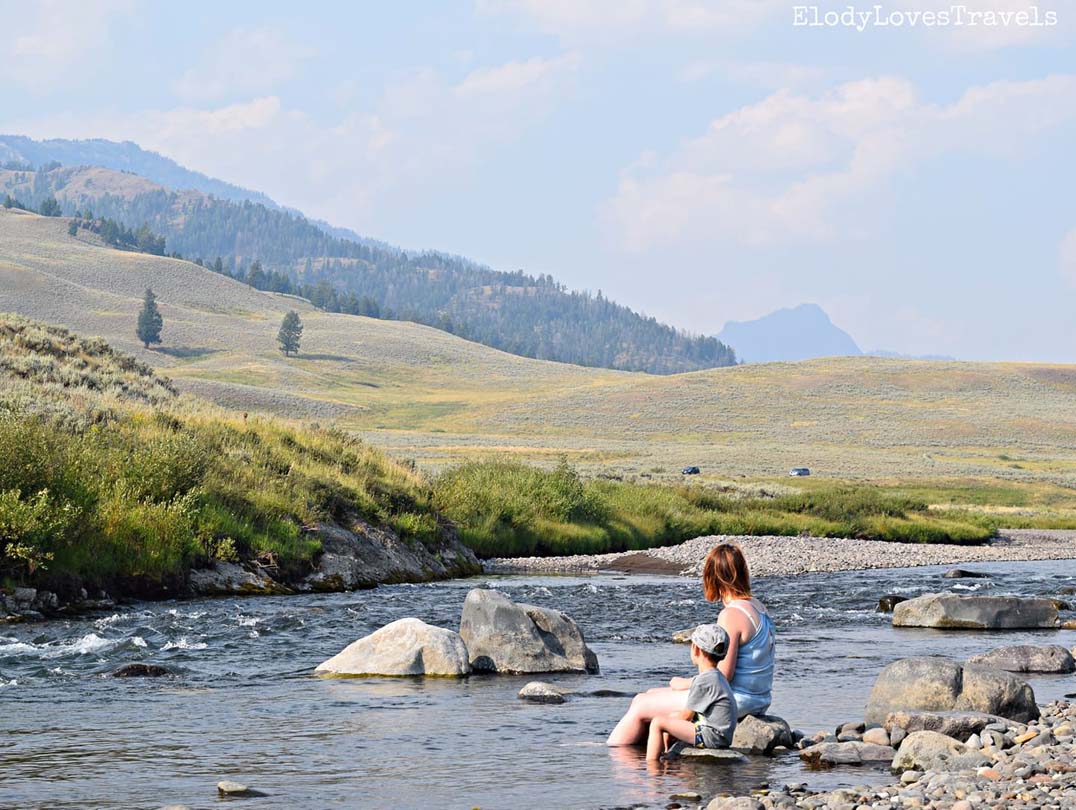 Dès que la situation sanitaire le permettra, nous continuerons de découvrir notre région que nous affectionnons tout particulièrement et dès que cela nous sera autorisé, nous reprendrons le chemin du continent Nord-Américain dont nous sommes littéralement tombés amoureux.
Nous devions partir à nouveau au Canada cet été, un voyage de 3 semaines au cœur du Québec que nous espérons pouvoir réaliser dès que possible. En attendant nos nouvelles aventures, je vous invite à voyager avec nous dans les rocheuses Canadiennes que nous avons découvertes l'année dernière.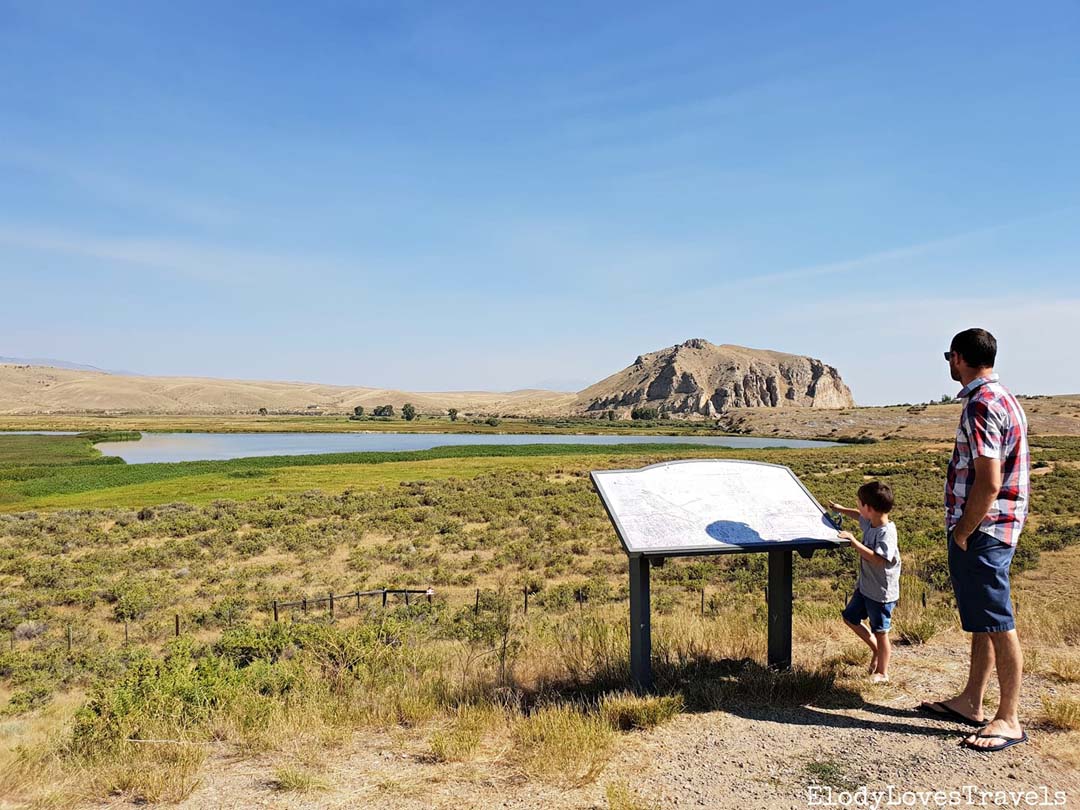 Retrouvez les suggestions de voyages pour enfants d'Elodie sur son :
Serial Travelers, le trio voyageur
Nous sommes Noah, Thomas & Laura : les Serial Travelers. En 2017, nous avons créé notre blog pour que nos proches puissent suivre notre tour du monde. Nous nous sommes pris au jeu et partageons désormais tous nos périples avec nos lecteurs et followers : de nos longs roadtrips à nos petits city trips. Sur notre blog, se trouvent à la fois toutes nos infos pratiques et des bons plans mais aussi un peu d'histoire et de jolies anecdotes racontées autour de photos sympa (du moins on essaie 😉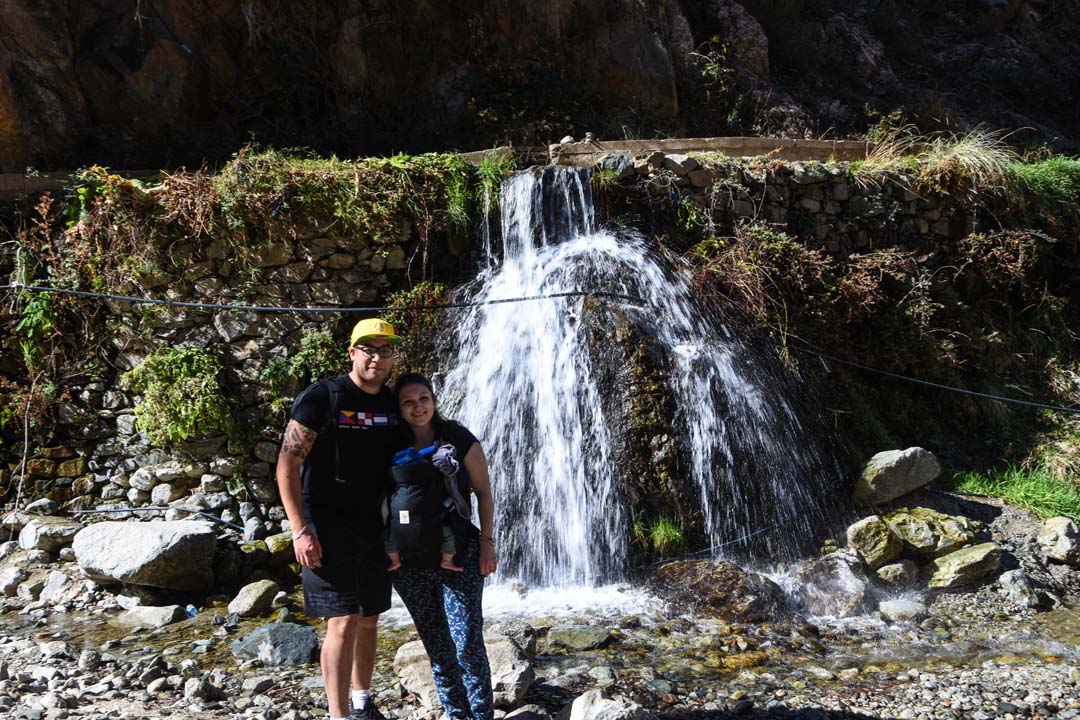 Noah est né en 2019 et nous réapprenons à voyager avec notre bébé. Sa première excursion à 4 mois dans la vallée de l'Ourika au Maroc  nous a, par exemple, demandé bien plus de réflexion que nos expéditions de plusieurs jours dans la jungle malaisienne !
On réfléchit un peu plus mais quel bonheur de découvrir le monde à travers les yeux de son bébé ! Après le confinement, nous étions censés retourner en Martinique en juin pour présenter Noah à la famille de Thomas mais la situation nous oblige malheureusement à trouver un plan B. Ce sera surement un petit roadtrip entre Annecy (non loin de la famille de Laura) et le colorado provençal qui nous fait de l'œil depuis un moment.
Affaire à suivre sur leur :
1 parenthese 2 vies, le blog d'une handi optimiste
Se présenter est toujours un peu délicat, on ne sait par où commencer et comment terminer. Allons-y à l'intuition… Je m'appelle Daphnée, j'ai 27 ans et ça fait maintenant 6 ans que j'ai créé le blog 1parenthese2vies.com. Dedans j'y aborde tous les aspects de ma vie en fauteuil, puisque je le suis depuis 2013 suite à un accident de voiture. Que ce soit du culturel, du loisir, du psychologique, du technique, du sportif… aucun sujet ne m'échappe et je prends plaisir à écrire sans me mettre de barrières. Comme je suis aussi une voyageuse dans l'âme, je bouge beaucoup, en France comme à l'étranger, et là encore j'en fais des articles.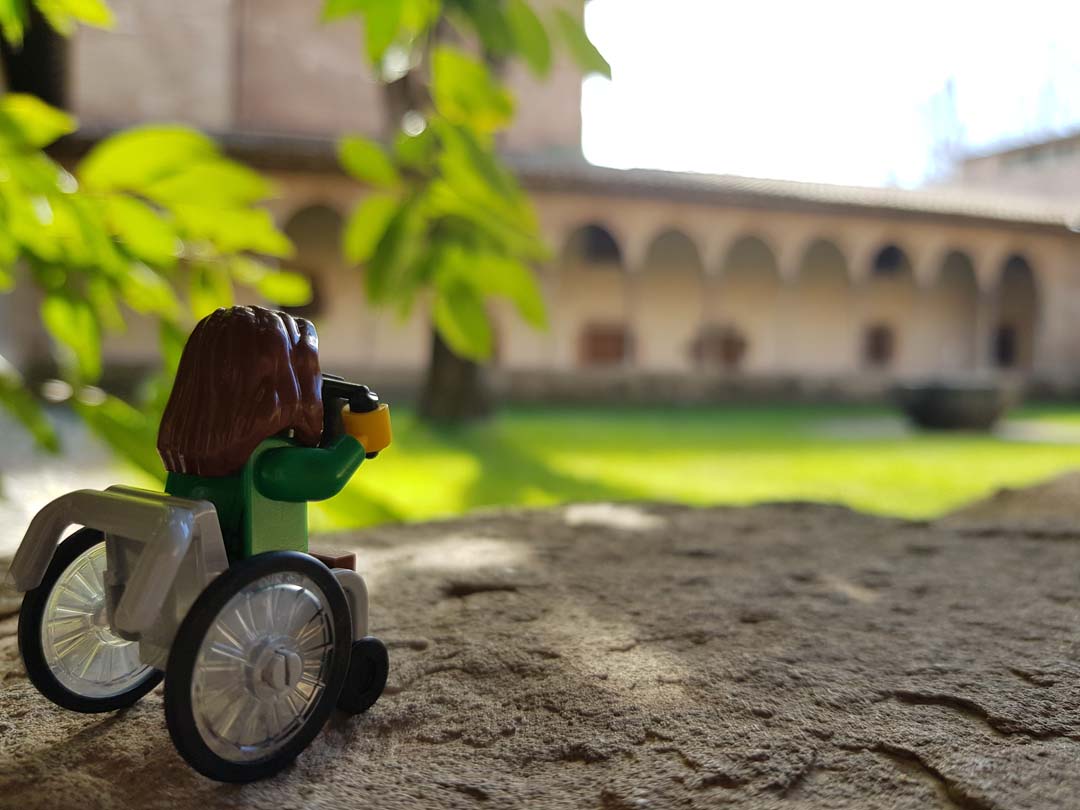 Mon objectif est de montrer que de se retrouver en fauteuil du jour au lendemain n'est pas une fin en soi, que ça peut même être le début de bien des aventures. Avec optimisme et bonne humeur, je mène ma barque et y emmène avec moi tous ceux qui ont la curiosité de monter à bord. D'ailleurs pour ceux qui veulent aller plus loin, j'ai sorti mon livre témoignage en octobre dernier. Il s'appelle Ça n'arrive qu'aux autres (enfin presque) et c'est l'aboutissement de 3 ans de travail, écrit avec beaucoup de larmes, d'humour et d'amour !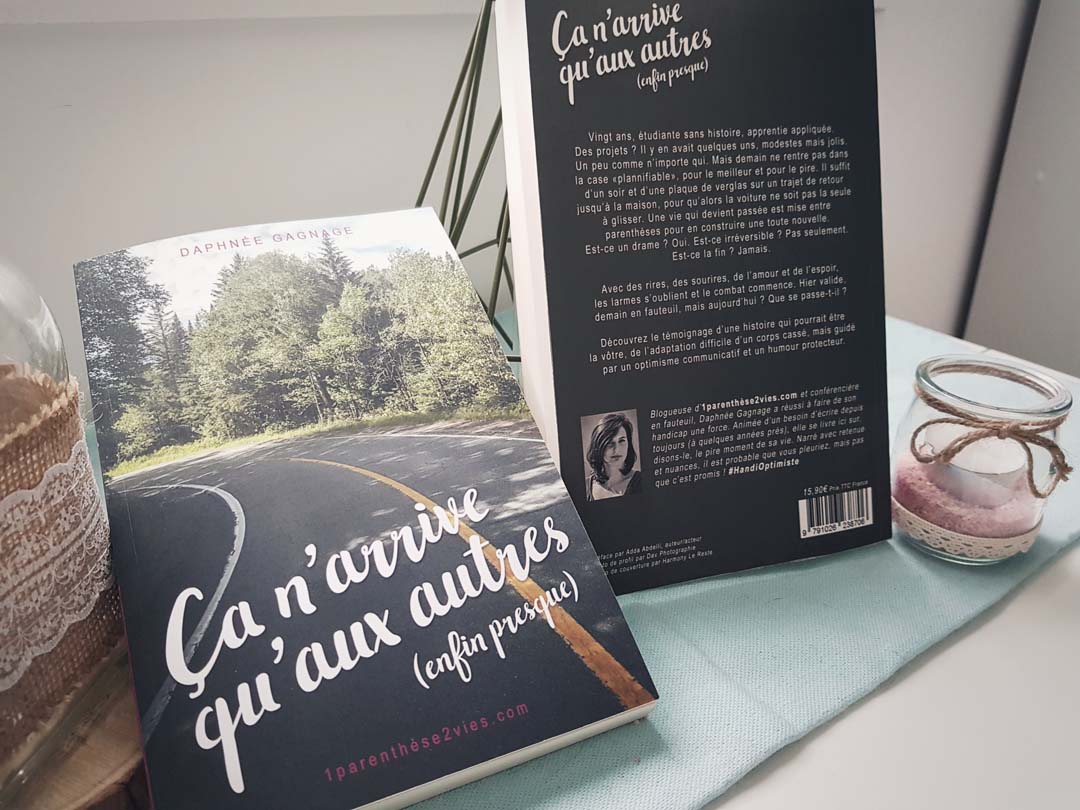 Normalement j'aurais dû aller à Prague à la fin du mois de mai. Cela fait déjà 2 fois que je suis obligée d'annuler cette destination, inutile donc de vous dire que, têtue comme je suis, je ne compte pas lâcher l'affaire de sitôt ! Mais à part ça je dois avouer que cette période m'a fait réfléchir et me rendre compte que, peut-être, je pourrais calmer mon rythme de voyageuse. Déjà parce que je constate que rester un peu posée me fait du bien, ensuite parce que ce sera toujours ça de fait en plus pour, à mon échelle, prendre un peu plus soin de notre planète.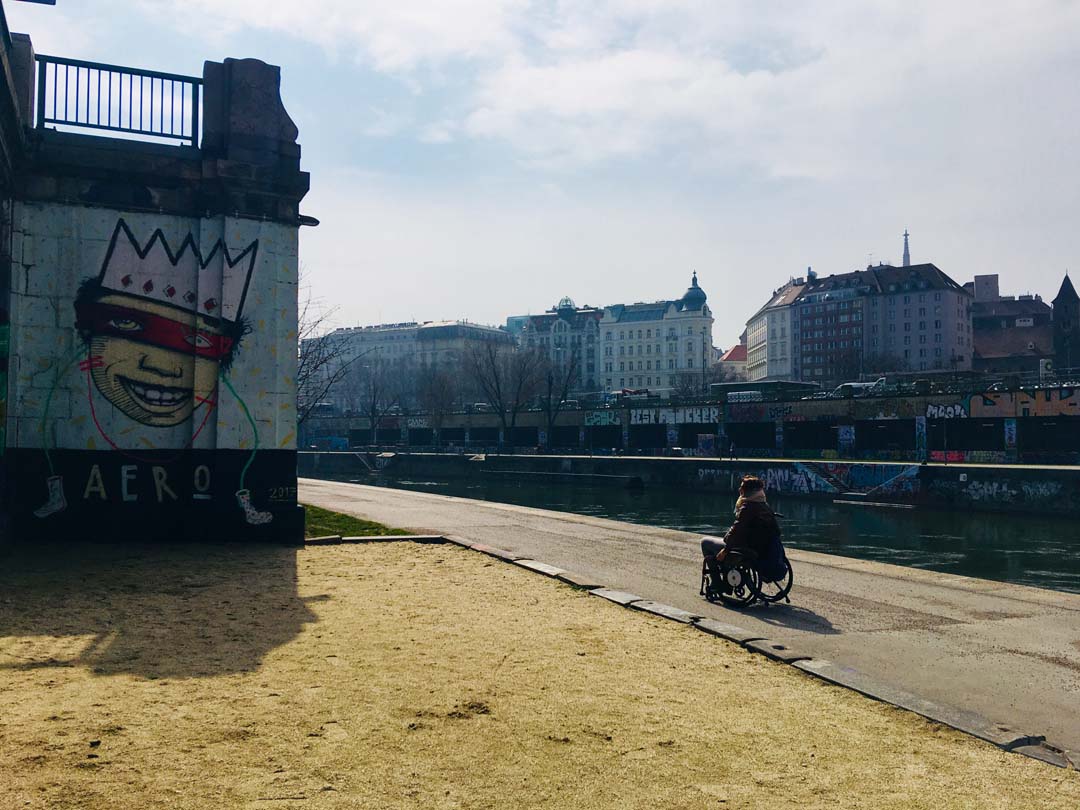 Je vous propose de nous évader ensemble dans La Belgique Wallonne, surprenante et insolite !
Pour suivre les aventures de Daphnée, rendez-vous sur ses comptes :
QLF (Que La Famille), le magazine pétillant de Mélanie
Je m'appelle Mélanie, j'ai 37 ans et je suis une maman-working-girl ! Chose qui n'est pas évidente tous les jours, mais très galvanisant, malgré tout. J'ai 2 enfants, Louise 3 ans et Joseph 6 ans, qui, même lorsqu'ils se chamaillent au sujet d'un Lego, sont de véritables sources d'inspirations. Je me suis aperçue que le fait de devenir maman m'a permis de mettre en avant une autre facette de moi, à savoir d'oser sortir de ma zone de confort, la volonté et la patience (enfin pour cette dernière, ça dépend des jours !).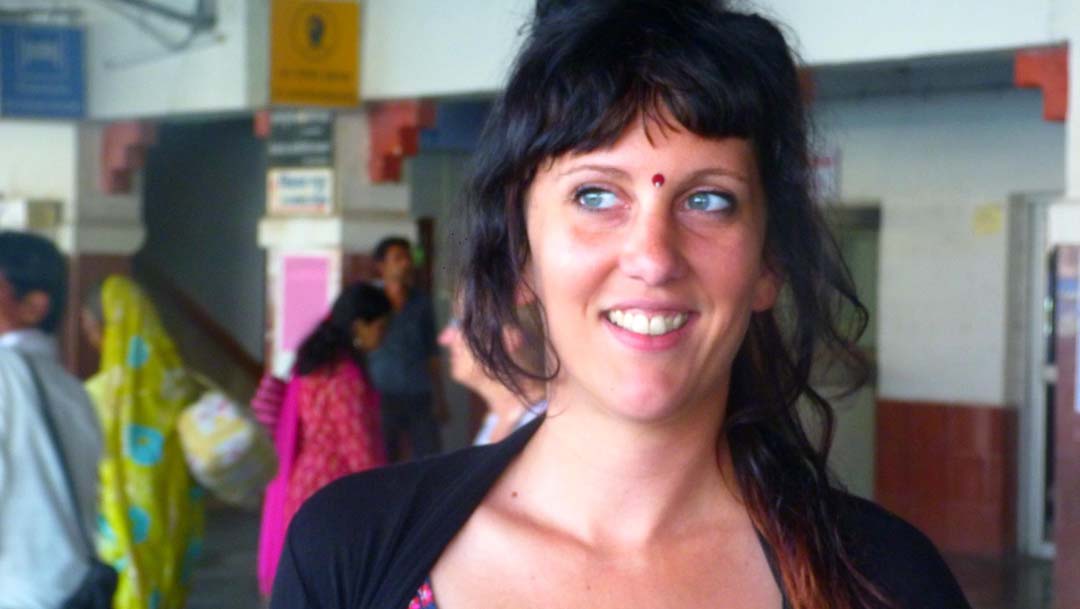 J'ai créé le magazine QLF en juillet 2017, lorsque ma fille avait à peine 6 mois. Cette création est le résultat d'un long processus de réflexion sur la vie de parent, la pression sociale et les injonctions que l'on entend souvent au sujet de l'éducation que l'on doit donner à nos enfants. J'ai eu envie de prendre la tangente par rapport à tout cela et de créer un média papier qui parlerait aux parents de manière bienveillante et avec une bonne dose d'humour. Avant d'être directrice de publication pour ce magazine, j'ai été graphiste pendant de nombreuses années dans une imprimerie. J'en ai gardé un amour du papier, de l'objet imprimé, d'où mon souhait de me diriger vers la presse papier.
QLF est à présent un magazine de survie parentale incontournable sur la région Auvergne et les lecteurs sont de plus en plus nombreux au fil des numéros. De la culture, des idées de sorties et des places to be family friendly ont également une place de choix, dans les pages du magazine.
J'ai beaucoup voyagé lorsque j'étais enfant. Mon beau-père était routier et nous avons ainsi traversé une grande partie de l'Europe en camion, du Portugal à l'Allemagne en passant par la Pologne ou l'Italie. Plus tard, j'ai voyagé seule, notamment en Inde et au Népal dont je garde un souvenir impérissable et empreint de beaucoup de nostalgie. C'est donc pour moi primordial que mes enfants connaissent d'autres cultures et différents paysages.
J'ai à cœur de traverser les Etats-Unis par exemple, de découvrir des villes complètement perdues où seuls quelques motels sont encore sur pieds, comme dans le Colorado. L'idée, me semble-t-il, lorsqu'on voyage, c'est de pouvoir se fondre totalement dans le décor et tenter de comprendre comment vivent les gens, quel a été le passé des lieux, etc. Une immersion complète que seuls des road-trip importants permettent.
Je sais aussi que je retournerai un jour en Inde avec eux, mais je préfère attendre qu'ils soient plus grands pour qu'ils en aient de vrais souvenirs. Pour l'avoir vécue plus jeune, je comprends à quel point les voyages forgent le caractère et l'ouverture d'esprit. Celle-là même qui nous permettra d'affronter le monde plus tard avec un regard plus compatissant.
Pour autant, je me rappelle avoir eu un échange avec Jean-Pierre Frachon (président du Rendez-vous des carnets de voyage) et il m'avait indiqué qu'il n'était pas nécessaire de partir très loin pour voyager, finalement un voyage peut-être possible dans son propre salon, si tenté qu'on ait l'imagination qui va avec. Il suffit par exemple de mettre Cool Cat de Queen à fond et de fermer les yeux pour avoir l'impression d'être au bord du pacifique !
Pour l'heure, j'espère déjà que l'on pourra aller voir l'océan cet été, je croise fort les doigts !
Sur le site du magazine : qlfmagazine.com, il est possible de retrouver tous les anciens numéros, de manière digitale. Nous avons une rubrique intitulée En voiture Simone qui nous fait voyager à travers le monde, à la rencontre de mamans. Je conseille particulièrement l'article que nous avons réalisé sur le Brésil, on y apprend des choses dont on ne se doute pas !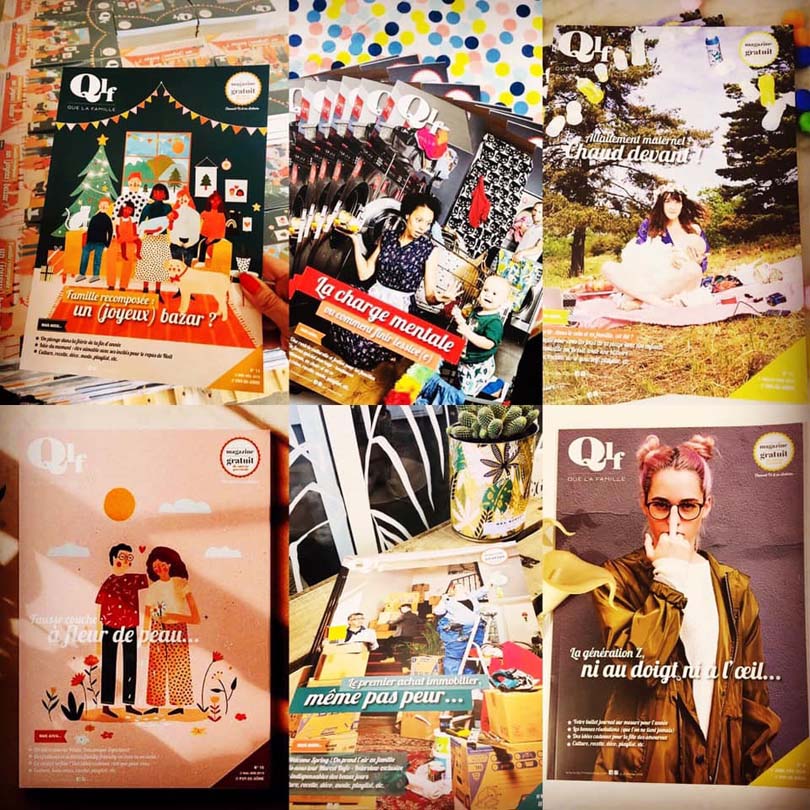 Pour suivre le magazine QLF, connectez-vous sur :
PLAYING THE WORLD avec 2 enfants
Nous sommes Chloé et Romain. Voyageurs avant d'être blogueurs, nous nous sommes rencontrés en cueillant des pommes en Australie en 2011 pendant notre année en Working Holiday Visa. De retour en France, nous avons enchaîné les voyages à 2 avant que l'envie de repartir pour un voyage au long court ne nous reprenne. Nous avons donc créé notre blog en 2015, quelques mois mois avant notre départ en tour du monde.
L'objectif principal de ce blog était de partager notre passion du voyage avec les internautes et permettre à nos amis/famille de nous suivre. Notre nom de blog Playing the world est en rapport avec le fil rouge de ce long voyage. Nous avions comme objectif de jouer avec les enfants dans chaque pays traversé ! Le but : créer un lien grâce au jeu. Mission accomplie, on a appris des jeux aux enfants et ils nous ont appris également des jeux de chez eux.
Aujourd'hui, nous continuons de parcourir le monde et la France à 4 avec nos 2 baby globe-trotters, Elia (2 ans) et Lilas (6 mois). Une nouvelle façon de voyager qu'on adore et qui nous permet de voyager plus lentement.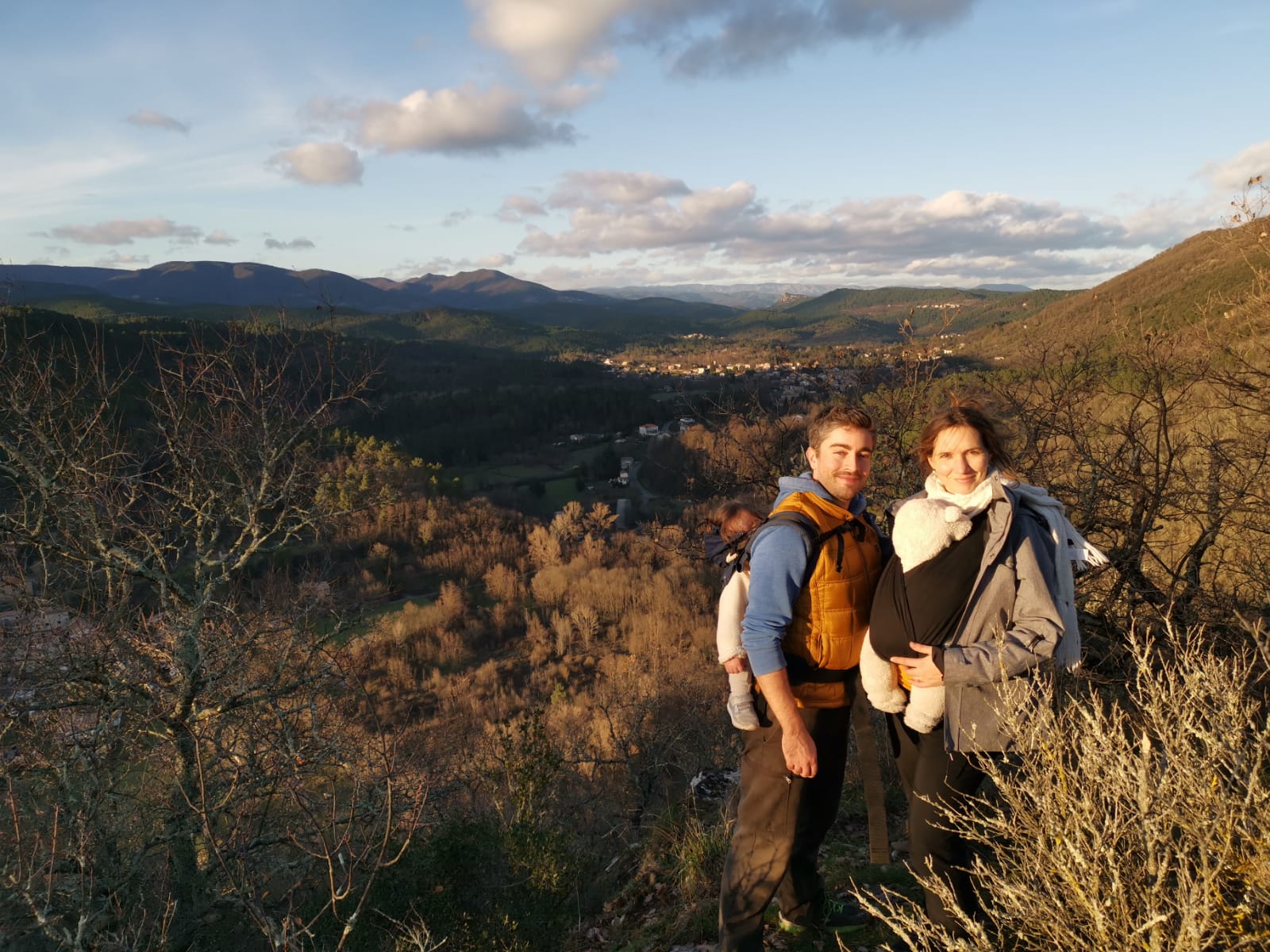 Vous trouverez sur notre blog de belles photos qui invitent au voyage, nos astuces et bons plans pour voyager plus facilement en couple ou en famille, des infos utiles, nos coups de cœur et plein d'autres choses encore !
Après ce confinement nous allons évidemment voyager en France. Nous allons prendre le temps de re-découvrir nos départements d'origine : Ardèche/Gard pour Chloé et Yvelines pour Romain. Et puis si le temps nous le permet, pourquoi faire un petit tour en Bretagne vers la fin de l'été ?
D'ici là, retrouvez une vidéo réalisée au Laos pendant notre tour du monde et une idée de séjour à Majorque avec un bébé !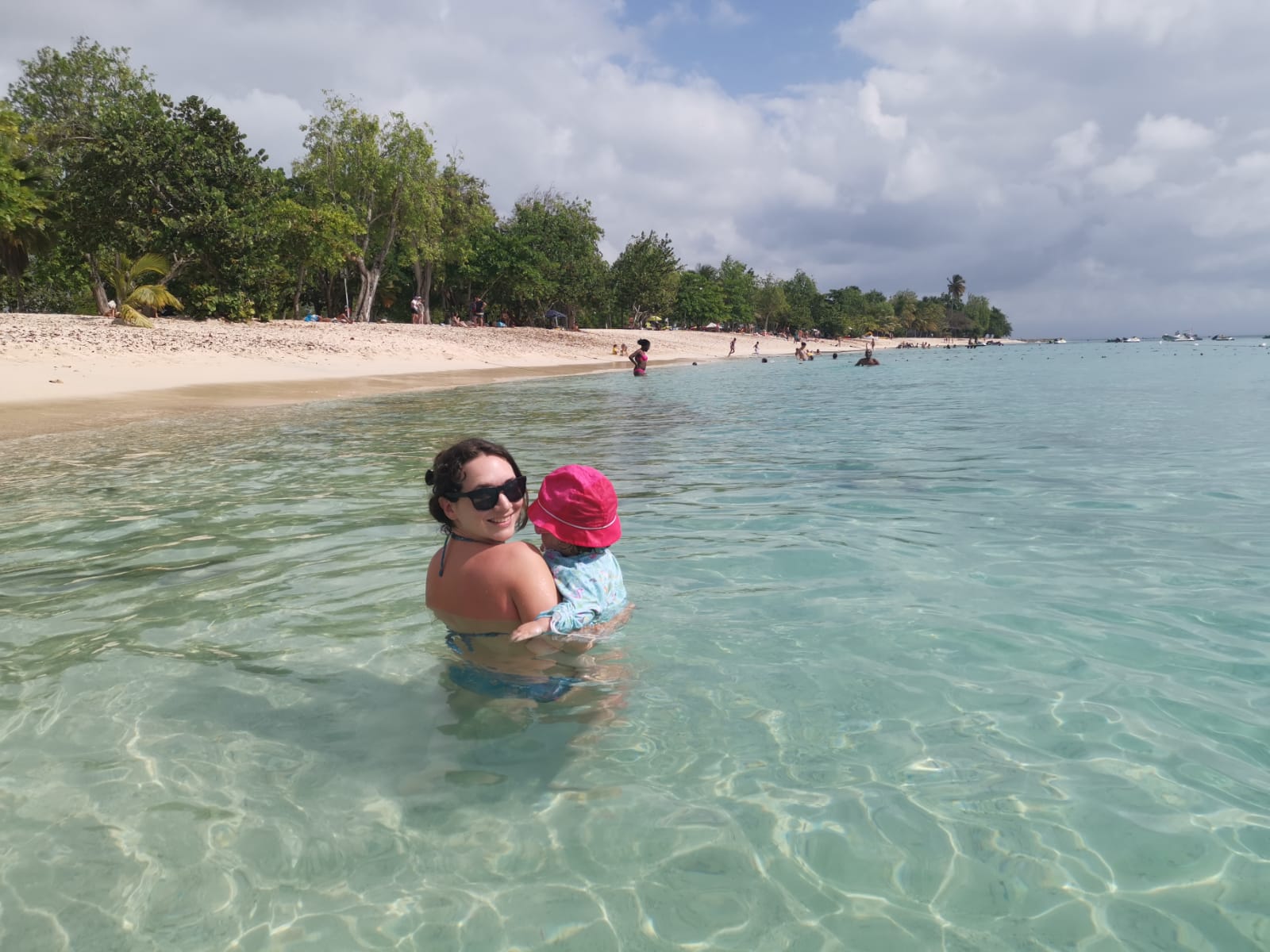 Suivez les escapades de Playing the world sur leur :
Envie de poursuivre le voyage en famille ? Rendez-vous sur :
Merci à tous ces voyageurs de nous permettre de s'évader avec eux ! Et vous, des idées de sites à parcourir pour continuer nos découvertes ensemble ?
La tribu des Baroudeurs en direct de Clermont-Ferrand dans le Puy-de-Dôme
L'aventure continue sur Facebook / Twitter / Instagram / YouTube